December 27th, 2021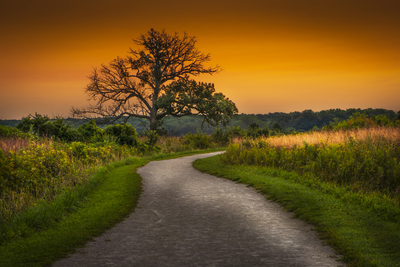 A Morning Walk at Hadley Valley Preserve Joliet, Illinois USA.
When you start the walk, the air is overwhelmingly filled with a wonderful scent of wildflowers. It was
early morning 6am Central Standard Time, just 50 minutes S.W. of Chicago IL. Will County is known for
collecting/protecting old forests and prairies. I know the story behind this prairie, since I grew up in
Lockport, IL. The prairie sits on the N.W. farthest corner of Lockport.
When I was a teenager, we used to ride our horses out to this farmland. It was a gravel/dirt road back in
the day. My friend Flossy who owned the horse farm next to me, allowed me to board my horse at her
stable and accepted a barter in exchange for labor to clean stalls and feed horses.
One day she mentioned a ride to a haunted farm up the road, it would be a fun ride in the late fall
afternoon. We rode to the farm (now Hadley Valley) and through an old Oak forest we entered. When
we rode inside the trees suddenly, the wind inside the forest started howling and the horses became
spooked, (I was spooked to) and the wind went in seconds from calm to 50-70mph ....and the tree
branches were bending, frightened we all rode back out as fast as we rode in.
I later found out that the property was bought to stop the pesticides/fertilizer run-offs into a few
streams on the property that runs into the Lockport water supply and was contaminating the water.
The farm, land and streams were bought by Will County and they began a restoration/reconstruction
project to clean the land, and they now grow grasses and plants that can we harvested by local farmers
to feed local farm animals.
Hadley Valley protects a diversity of habitats, including forest, savanna, wetland, and a portion of Spring
Creek.
Wildlife found at the preserve includes more than 15,000 species of insects, birds, aquatic invertebrates,
fish, mammals, amphibians, and reptiles.